Social Media Marketing
Using social media channels to reach and engage your target audience is no longer an option – it's a standard! Rather than asking yourself if you should be active on social media platforms, you should be asking how much time and resources do you need to plan for to devote to growing your social media audience and fostering your relationships with leads and customers.
The first step in developing a social media marketing strategy for your business is selecting which channels will have the most impact. You want to consider which social media platforms your target audience uses most often as well as which social media channels provide the advantages that can help you reach and engage your audience. Below is a quick visual guide to helping you understand the difference between each channel: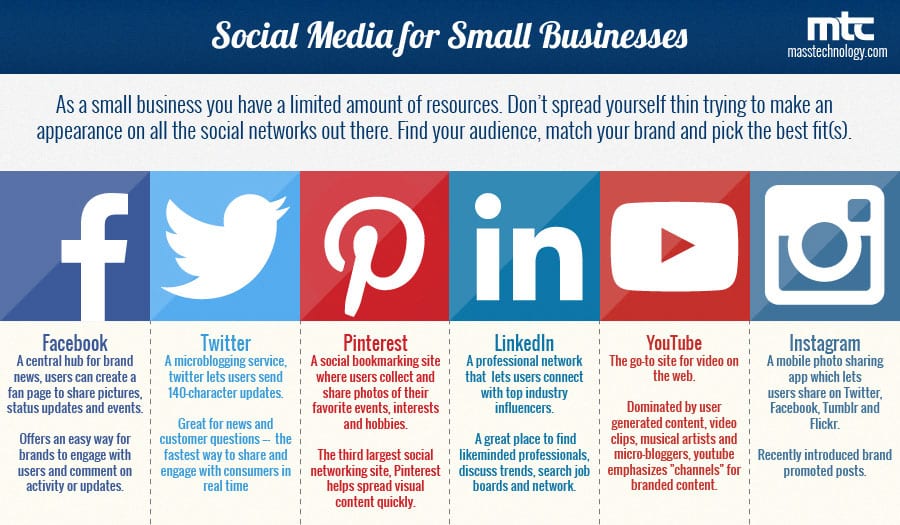 Once you have an idea of which social media channels you'll be using to connect with your ideal target audience, it's time to think about what types of content you will create and how often you plan on sharing your posts.
Having a social media content calendar can help you keep track of what has been posted, how the post performed, and how far did it reach. It's important to create and share different types of media on your pages from relevant third-party articles to branded images and videos as long as it coincides with your brand and messaging.
Don't have the time or resources to manage your own social media marketing?
​We can help! by providing a range of social media marketing services including:
Facebook marketing
Instagram marketing
Twitter marketing
Pinterest marketing
LinkedIn marketing
Youtube marketing
Google My Business marketing
Our team will help you develop a social media strategy, develop compelling content, manage engagement, and anything else you might need help with. Request a free consult today at www.socialjack.biz